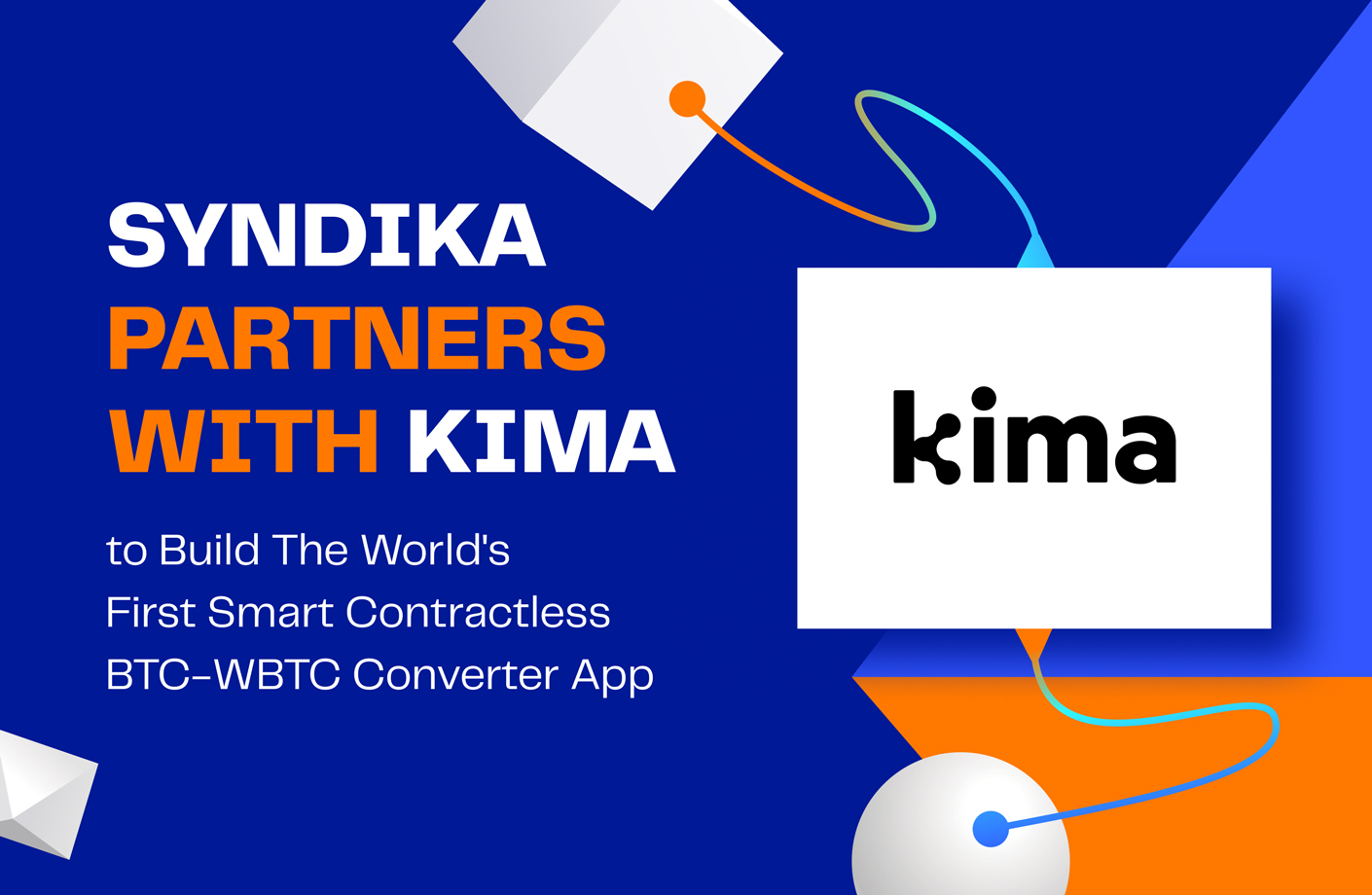 WEB 3.0
By implementing Kima's SDK, settlement layer, and atomic swap capabilities, Syndika clears the path for easy BTC-WBTC conversion and DeFi entry without smart contracts
Tel Aviv, Israel, July 12, 2023 —  Kima, the asset-agnostic, peer-to-peer money transfer and payment protocol, brings its full-scale DevNet to Syndika, a leading syndicate of advisors, builders, and business leaders championing Web3 and AI progress. As part of the partnership, Syndika leverages Kima's technology and infrastructure to build its Bitcoin (BTC) to Wrapped Bitcoin (WBTC) converter app, giving BTC holders easy access to the world of DeFi.
Despite Bitcoin being the most recognizable and widely accepted cryptocurrency, its incompatibility with smart contracts thwarts its DeFi potential. While this gap sparked the need for blockchain bridges, an influx of theft and highly insecure custody practices effectively halted their widespread use. But in the wake of centralized exchanges and bridges shortcomings, a new opportunity for secure and decentralized methods to bring Bitcoin into DeFi without relying on smart contracts emerges.
The partnership with Syndika marks the beginning of Kima's strategic offering to developers of every background, enabling them to make inter-ecosystem financial flexibility and simple cross-chain asset transfers a reality. Kima's infrastructure eschews smart contracts, creating a framework for Syndika to build an app that removes the obstacles of bringing Bitcoin support into DeFi.
By providing a user-friendly and efficient swap solution for retail users, Syndika's app implements Kima's technology and transfer capability to step in as an alternative to centralized exchanges and bridges. Kima is providing the atomic swap capability between BTC and WBTC utilizing the following components:
Blockchain and validators:

Kima's proprietary blockchain serves as a secure and transparent distributed ledger. Supported by a validator network, this blockchain provides the foundational infrastructure for the swap app developed by Syndika. Kima records transactions and facilitates seamless swaps between Bitcoin and Ethereum chains. The network validators play a crucial role in attesting the deposits and signing withdrawals, ensuring transaction validity, and enhancing the overall security of the swap process.

SDK:

Kima's comprehensive SDK enabled Syndika to develop its swap app with ease by simplifying the integration process. This allows Syndika's app users to participate in Ethereum's DeFi services using their Bitcoin holdings, without requiring smart contracts or intermediaries.

Liquidity Pools:

The Kima protocol incorporates liquidity pools to enable efficient withdrawal of WBTC or BTC, depending on the direction of the withdrawal. These liquidity pools certify there is sufficient liquidity available for users to both convert and redeem their Bitcoin assets.
Kima's partnership with Syndika sets the stage for future partnerships and integrations, helping foster an interoperable ecosystem that puts security and accessibility at the forefront. The DevNet serves as the preliminary stage of Kima's blockchain roadmap—which tests transactions, identifies technological and security weaknesses, and solves them in a secure environment before a product is client-facing.
"We're thrilled to announce our first partnership with Syndika and provide its team with the tools necessary to build its groundbreaking swap app," says Eitan Katz, CEO of Kima. "We can't solely rely on smart contracts to expand Bitcoin interaction, and this collaboration demonstrates how Kima's technology creates a solution to bring financial ecosystems together."
"As a leader in championing the latest and greatest in Web3 and AI technology, we're always looking for projects that are making a tangible difference in the crypto space," says Alex Cucer, Head of Technology of Syndika. "Implementing Kima's technology gives us a way to partner with an excellent team that is making a real impact in how everyday people interact with DeFi and Bitcoin."
About Kima
Kima is the asset-agnostic, blockchain-based decentralized settlement protocol intended to address fragmentation in crypto and the broader financial space. By introducing a new financial primitive – the Smart Transaction and an easy-to-use SDK built for Web3 and Web 2.0 apps, Kima opens access to new audiences by enabling interchain and hybrid transactions. With a settlement layer supporting multi-ecosystem payments, peer-to-peer commerce, CeFi/DeFi services, cross-chain DEX swaps, and omnichannel wallets, Kima provides a seamless way to connect fiat and crypto while emphasizing security and accessibility. To learn more, please visit https://kima.finance/
About Syndika
Syndika is a top-notch Web3 syndicate, with full-scale capabilities to support startups, corporates, and initiatives. Syndika's Executive Members and Team members are supported by the syndicate ecosystem: Members and Associates – leading Web3 figures and companies, and reinforced by highly skilled Advisors and Partners. With 50+ team members, we offer the highest level of Web3 technology consulting, architecture and development, web3 economics and data science, and A to Z Venture Studio capabilities to support startups. To learn more, please visit https://syndika.co/
Unlock Your Potential
Want to take your business to the next level? Look no further! Get in touch with us today
Cookie Consent Banner by Real Cookie Banner